Director: Scott Derrickson
Writers: Jon Spaihts, Scott Derrickson, and C. Robert Cargill
Cast: Benedict Cumberbatch (Stephen Strange), Chiwetel Ejiofor (Karl Mordo), Rachel McAdams (Christine Palmer), Benedict Wong (Wong), Mads Mikkelsen (Kaecilius), and Tilda Swinton (The Ancient One)
Running time: 115minutes
Doctor Strange is a perfect example of why the Marvel Brand is so strong and appears to be losing no steam. The ability to have their films follow the same structure yet feel so unique is simply amazing. Dr. Strange is the origin story of said character as he goes on his quest to become the Sorcerer Supreme. What made this film unique are the visual effects.
The opening of the film starts with the villain Kaecilius breaking in to an unknown location and stealing documents and then immediately cuts to our hero Stephen Strange. Strange is cocky neurosurgeon at the top of his field. Strange appears very similar to our first meeting with Tony Stark in the first Iron Man as he is greedy and arrogant. Strange lives his life in luxury. His apartment is filled with expensive watches, furniture, and various other items.
While driving, Strange gets distracted by talking on the phone and drives off of a cliff. While he is falling to the ground is hands are crushed and Strange is rushed to the hospital as soon as his body is found. With his hands ruined, Strange can no longer perform as a surgeon and has a meltdown. He spends the last of his money looking for procedures to fix his hands which will then give him the ability to return to his old lifestyle.
Desperate to return to his old lifestyle, Strange searches for any opportunity to fix his hands. After accepting that western medicine cannot help him, he travels to Kamar-Taj with a recommendation from a paraplegic with a miraculous recovery. There Strange meets the Ancient One and Mordo and begins his journey as he is introduced to magic.
The cast in this movie was fantastic. First and foremost the movie revolves around Benedict Cumberbatch who clearly proves that while previously known as a critically acclaimed actor can also be a box office star. Cumberbatch's blockbuster debut Star Trek: Into Darkness was not bad but was also not the hit everyone was hoping for either. What hurt that film was the secret of Cumberbatch playing Kahn by the studio yet the fans already knew hurting the big reveal. The performances of Strange and Kahn are very different. Kahn had really no emotion while Strange had various range and showed all of Cumberbatch's acting skills. I knew Cumberbatch could be dramatic and serious but I did not realize how funning he could be. It is really amazing how well Marvel casts their leading stars as I could not imagine anyone else playing the Sorcerer Supreme. Marvel has an embarrassment of riches as they have Chris Evans, Robert Downey Jr., Tom Holland, Chris Pratt, and Benedict Cumberbatch who, if used properly, can be the face of the MCU in 3 years. Right now it is clearly between Evans and Downey Jr., slight edge to Captain America.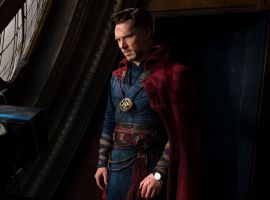 Rachel McAdams is fantastic as usual though he character is almost too much like Pepper Potts. They both play the assistant/love interest who knows what is best for the hero but both are likable and easy to root for. Chiwetel Ejiofor and Tilda Swinton are great in their roles as they have the best performances besides Cumberbatch himself. Ejiofor has a nice balance of likability and humor while Swinton serves as the teacher and is truly is convincing.
Benidicit Wong has only a handful of scenes as the comedic relief in the movie. Wong steals nearly every scene he is in, and I predict his role will only grow in future films as he becomes a fan favorite. Mads Mikkelsen does a fine job as the villain, but he has only so much room to work with as we all know Marvel has weak villains. I liked Mikkelsen in the role, but almost feel that they are wasting someone of his caliber in such a minor role.Marvel's movies are about the heroes and it has gotten to the point where I cannot get excited for a villain anymore. Again, it was not Mikkelsen's fault, but this movie just does not deliver in that aspect. To be fair Mikkelsen is the best villain in a while for Marvel.
This movie is good but what make it a great viewing experience is the visuals. Watch this movie in IMAX 3D. It is definitely worth it. While most films are fine viewing in standard this is an exception. The magic, portals, and alternate realities are done brilliantly and receive my highest praise. I cannot wait to see Doctor Strange in future Marvel Films and I am even more excited to see what Director Scott Derrickson delivers in the sequel.
P.S. There are two post credit scenes
I give Doctor Strange a
3.25 out of 4